The House of Flynn hired me to design three magazines for their community. I held a survey where photographers could submit their work. I hand-selected every image in each of the magazines, as well as interviewed many of the photographers, wrote articles, and designed every aspect of the magazines. We used blurb, where I was able to upload my InDesign files for distribution. I'm unable to share the full magazine, but you can click "preview" on the link to view a generous amount of pages in the magazines.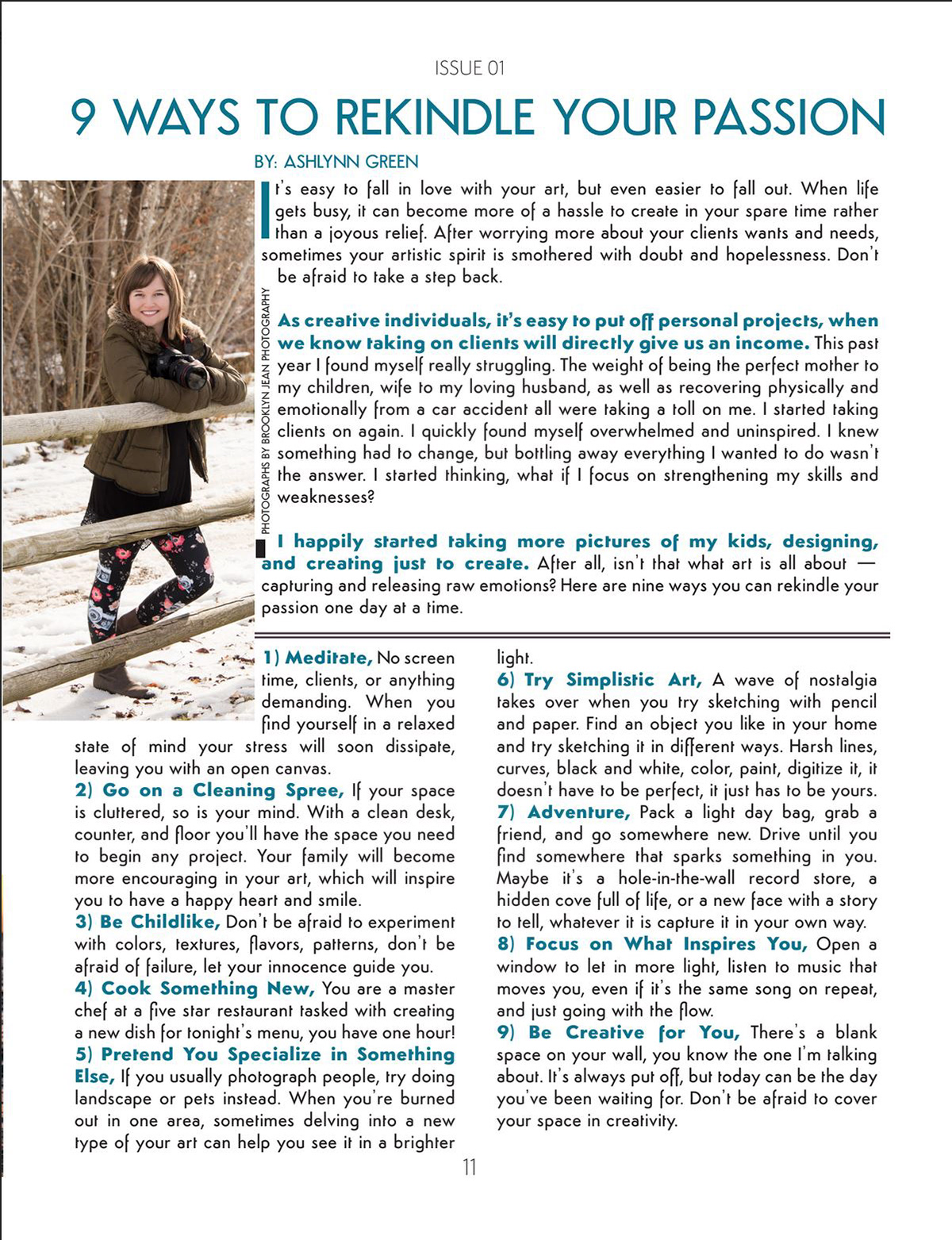 I've shot and edited many from commercials to interviews and demo reels to documentaries.

My most exciting video work has to be the time I was hired to shoot a documentary about The Collegiate Singers trip to Ghana, Africa. It was a grueling two week trip as a one man team, but I was able to learn a lot about the culture while toting around over one hundred pounds worth of gear in a foreign country. When I returned I was able to shoot follow up interviews about the experience, create lower thirds graphics and edit the rest of the footage.

Shoot and Share is a fantastic annual photography competition put on by the Pass Gallery website. This is a link to my submissions for the past few years. I had some images rank in the top 20% and top 30%.

In Allison Larsen, Soul Intuition, I created the graphics including her logo and stings, shot and edited everything besides the short clip of the news segment.

A while back I worked as an Influencer receiving products to use in short advertising campaigns. NutriNinja and SpinMaster were two of the companies I created a concept for, then shot and edited the video every step of the way to match their branding and campaign needs. Kikkoman and Lego are some of the other companies that have reached out to me in terms of being an Influenster to give me swag, or ask me to host paid parties and other events. I've been sent dozens of books, items from Revlon, and many more in hopes that I'd create content for them to use in advertising.